With the FCC's mandate of 12.5 kHz by January 1, 2013, there have been many questions. I wanted to take a minute to address 5 of the most common.

1 - What is Narrowbanding?
In an effort to promotoe more efficient use of spectrum, the FCC mandated all VHF and UHF Public Safety and Industrial/Business licensees using 25 kHz land mobile radio (LMR) systems migrate to narrowband 12.5 kHz efficiency technology by January 1, 2013.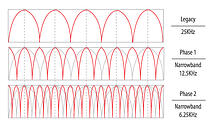 2- What will happen if I fail to comply with the FCC Naroowbanding Mandate? Can I continue to operate at 25 kHz efficiency on a secondary status after January 1, 2013?
No. The FCC will prohibit licensees from operating 25 kHz efficiency equipment on a secondary basis. Non-compliance will be considered a violation subject to FCC Enforcement Bureau action, which may include admonishment, monetary fines and loss of license.
3- Does Narrowbanding require me to change frequencies or obtain new channels?
No. Narrowbanding does not require moving to another frequency band or different channels. Licensees stay on the same channel center(s), but reduce the bandwidth of the channel(s) currently used, from 25 kHz to 12.5 kHz and change the emission designator on the license. Alternatively, licensees stay on the same 25 kHz channel but implement a 12.5 kHz equivalent technology on that channel.
4- If I currently have a license for a 25 kHz channel, will I automatically be entitled to license two 12.5 kHz channels?
No. Your 12.5 kHz channel will remain on the same 26 kHz channel center. Your current 25 kHz channel will not be split into two 12.5 kHz channels. You will need to justify and apply for any additional 12.5 kHz channels to the FCC through a certified frequency coordinator.
5- Will migration to 12.5 kHz change my system coverage?
Maybe. Condust tests during the conversion to ensure your system continyes to provide similiar coverage.
For a more complete listing of FCC Narrowbanding FAQ's visit http://www.telecomny.com/narrowbanding/faq.htm