If you have been on the internet, read the newspaper lately or even just through word of mouth you have most likely heard about the FCC Narrowbanding Mandates. To understand the changes first you need to understand how two-way radios operate.
When two-way radios are operated, they do so in licensed bands called UHF and VHF. Inside those bands are radio channels that the FCC regulates. This is where radio licensing comes in. In the past, each channel for commercial two way users used 25 kHz of spectrum per channel. Throughout the years the number of radio users has increased and since there is a limited amount of radio spectrum available, the availability for new users has decreased. Enter the FCC and Narrowbanding.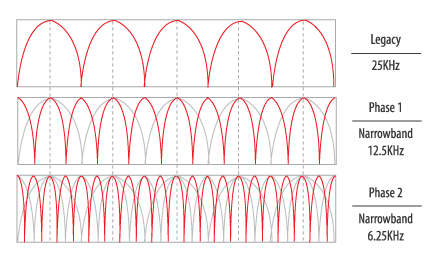 The FCC has mandated all business and public safety users operating on channels between 150 and 174 mHz and 421 and 512 mHz in the United States to transition from 25 kHz to 12.5 kHz. What this will do is increase the amount of channels available to two-way radio operators.
So the next question becomes why should I - the FCC would never know. In short, Yes they would. By not converting to Narrowband, not only will you experience increased interference but you also risk loss of radio communications, substantial FCC fines and/or the revocation of your FCC license.
Okay, okay you know you need to do it but when does this all happen? You've been hearing about this for years. Well the time for conversion has finally arrived. Key dates for the transitions:
January 1, 2011: The FCC will not grant applications for new voice operations or applications to expand the authorized contour of existing stations that use 25 kHz channels. Only narrowband authorization will be granted
The FCC will prohibit manufacture or importation of new equipment that operates on 25 kHz channels. This will reduce the availability of new equipment for legacy radio systems and will affect how agencies maintain and upgrade older systems.
January 1, 2013: All existing licenses must operate on channels with a bandwidth of 12.5 kHz or less
So now you have the who, what, where, when and why but what about the how? To prepare for the migration, users should begin by assessing their current radio system. This will allow them to see what can be reprogrammed to meet the requirements and what needs to be replaced. Because radio manufacturers have been aware of the mandates since 1997, most equipment purchased in the past 5 years should be able to just be reprogrammed. Once the assesment is complete, radio operators need to obtain new or modified FCC licenses. The final step is to set a date to begin your narrowband operations and make sure all your radios are tuned to the new bandwidth prior to that date.
If you would like more information of the FCC Narrowbanding Mandates you can check out the sites below:
National Institute of Justice Communications Technologies
Federal Communications Commission