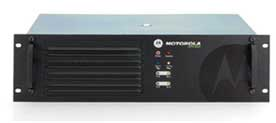 Coverage issues are not just limited to cell phones. There are many reasons why some companies two-way radios will be able to talk a lot farther than the ones at your company. To put it simply, they are most likely operating on a higher power. "Well that's not fair" you are probably thinking. What makes them so special that they can operate on a higher power. Well you can too, that's where a repeater would come in.
Portable radios normally operate somewhere between .5 and 5 watts. It's hard to say for sure what distance this would cover because of interference issues such as buildings, mountains, etc. but a rough estimate is for every watt of power you would get approximately one mile of coverage in a flat, open area. What a radio repeater would do is take that weak or low signal and retransmit ("repeat") it at a higher level which would then enable the radio signal to cover a greater area. The repeater would be installed in a location that would maximize its effectiveness.
There are many different types of repeaters available. There are low level repeaters, high level repeaters, vehicle repeaters, cross band repeaters and one of the newer types which are digital repeaters. Motorola MotoTRBO (XPR8300, XPR8400) repeaters supports two simultaneous voice or data paths when used in digital TDMA mode. This provides for twice the calling capacity, as compared to analog radios, for the price of one license. It also provides clearer communications, in digital mode, throughout the coverage area as compare to analog radios and it is 100% continuous duty.
Sometimes radio systems will require the use of a repeater to increases the range and capabilities of your portable or mobile radios. If you think you may need to use a repeater with your system, contact your two-way radio professional for a consultation and system testing.

Do you have a repeater at your organization? How has it increased your communications range? Comment below, we would love to hear about it