This is a guest blog by one of our newest team members Jim Vogel. He talks about his background and what he's learned about wireless technologies in a few short weeks.
I am one of the new Telecom Communications, Inc. Account Managers and I have just completed my third week on board.
As way of introduction, I'll give you a quick synopsis of my background. For the last fifteen years I have developed data and voice solutions for a group of Fortune 100 businesses as a Global Account Manager for a major US Telecommunications provider and for a software developer that provided Speech Recognition and Unified Messaging software solutions to Enterprise businesses. I plan to occasionally post to this blog as a guest.
I am in the unique position that many of you are also probably in, trying to understand technology that Telecom Communications provides and figure out what benefits it has so I can provide my clients with the best value and the best solutions available. Many of you are probably in a similiar position, since this is not your core business. Technology is something you need to keep your business competitive and maybe give you that edge over the competition. Technology is usually not your focus, it's a necessary evil to run your business.
Let me share what I have discovered at this point. Many of the people reading this know Telecom Communications as a top-notch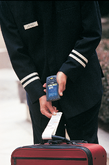 Motorola Authorized Repair Facility and Reseller of Two-Way Radios. That's only half the story. Telecom Communications also has a wealth of unique solutions including Bar Coding and RFID (Radio Frequency ID) technology. Bar Codes and RFID has a place in many businesses not just in supermarkets. Telecom Communications has been a close partner of Motorola for decades. Motorola, which acquired Symbol Technologies a few years ago, is a leader in the field. They are best in breed. You definitely want them on your team.
You can use this technology to benefit your business in many ways you might not realize. I certainly didn't and I have worked with technology and IT executives for years. It can be used for asset tracking and control. Businesses that have expensive products which are mobile can benefit from bar coding or RFID. Your business can have requirements to manage and track assets ranging from steel I-beams for buildings or perfume or lobsters, from furniture to paint, from trucks to computers to blood. Telecom Communications has the complete technology solution that can help you. Help you do what? For starters, help you by providing a complete technology solution to help you track information including:who has your product, help you increase your efficiency by reducing inventory shrinkage, or help you manage your inventory to reduce losses through spoilage.
Is RFID or bar coding something that might give your business that edge over the competition that you need? If you think it might help, or you're not sure and you want more information, call me.
Thanks for reading! I hope you enjoyed it. Please drop Amy a note if you have a question or an idea for a future post.