Press Release:
(Plainview, NY) May 10, 2011 -
Tel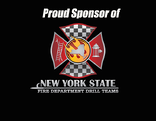 ecom Communications, Inc. is proud to announce our sponsorship of the New York State Fire Department Drill Teams as the 2011 Primary Series Sponsor and Exclusive Communications Sponsor. 2011 will be the biggest New York State Racing Season ever with firefighters from departments across Long Island and New York State competing in challenges designed to test their skills in the pillars of firefighting such as climbing ladders and positioning hoselines.
"We're happy to announce our partnership with Telecom Communications, Inc. in making the 2011 FD Drill Team season the biggest ever. Telecom Communications, Inc. continues to show their commitment to the firefighters of Long Island and across New York, with the number one reputation in the state for professional radios and installations, we can think of no better company to call the Exclusive Communications Sponsor of the NYS FD Drill Teams, and our 2011 Primary Season Sponsor!" – Paul Susskind, President Suffolk VFP+DTCA
Telecom Communications, Inc., a leading Motorola dealer of two way radio sales and service, with offices located in Plainview, NY and New York City has been serving the wireless communications industry since 1959. Generations of firefighters have relied on Telecom Communications, Inc. and Motorola radios when lives are at risk; radios that deliver interoperability on demand; superior audio, and simple, intuitive operation. Telecom Communications delivers communication solutions that allow fire departments to focus on their mission, making technology second nature.
"We are excited about our partnership with the 2011 NYS FD Drill Teams. Volunteer firefighters are an integral part of the community, devoting their time and selves to protecting others. Firefighters and Motorola go hand in hand so this sponsorship was a natural fit." – John W. Bos – President, Telecom Communications, Inc.