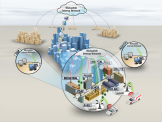 Mutualink, a company specializing in creating interoperable communities that are, at an instant, capable of sharing voice, text, radio, video, data and telephone communications in a secure environment, has published a knowledge brief discussing three key factors for effective interoperability. All of those involved in an incident, whether thay are field first responders, dispatch personnel, or crisis managers, must be ready at a moment's notice to respond: not just react. Effective communications allowing real-time collaboration is the most fundamental element in emergency situations. According to Mutualink, a successful system must be simple, flexible and familiar.
1. Simple - Any system must be very easy to use and intuitive.
2. Flexible - Every incident is different and requires different responses.
3. Familiar - In time-critical situations, all users must be able to communicate and then collaborate with methods that are second-nature to them.
To read their complete knowledge brief and hear about a real world working example click here
For more information on Mutualink click here