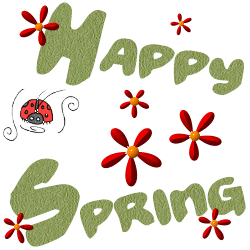 Spring is a time of renewal, a time for cleaning out the old and a time for fresh starts. This is true for so many aspect of life. We clean our closets of old clothes, we clean the dust bunnies from under our couches, and we clean the dead wood from our gardens but did you think to clean out your dead batteries? How about your broken earpieces? Spring is not just for cleaning our homes but also a great time to "clean" our communications.
When was the last time you took a look through your entire radio fleet? By taking just a few minutes now you can prepare yourself and as Confucius said "success depends upon previous preparation, and without such preparation there is sure to be failure." Below are our top "6 Tips For Spring Cleaning Your Radios."
Battery Check - The average life on your two-way radio batteries is 12-18 months. An old battery can effect the performance of your radio. Motorola Solutions, Inc. has a quick way to check the age of your battery. Their batteries come with a date code that tells you when the battery was manufactured. This is a handy guide to estimating the age of it.
Inventory Check - Throughout the year your radios are moved to different departments, taken out of service and/or new radios are purchased. Now is a great time to do a quick inventory check. Are all of your radios accounted for? Are they programmed to your current matrix? Are the IDs correct? By organizing now you will be able to prepare for the future. Knowing exactly what you have can help to prevent surprise purchases and allow you to budget for future needed equipment.
Accessory Check - Are all of your earpieces accounted for? Have you hired new employees but neglected to replace the earbuds for them? Are any of your belt clips broken? Do you have the correct antennas on your radios? Are your chargers functioning properly? Are there a whole slew of single unit chargers floating around the office? Perhaps it's time to invest in some 6 unit multi-unit chargers to centralize your charging locations. It's the little things that make life and work easier.
Broken Radios - Are you like many others and have a box of broken radios sitting on the floor in your office that you haven't gotten around to sending in for repair? Now is the time to do it. Qualified repair technicians can have those radios repaired and back into your fleet in a timely manner. Do you have some radios that have come back unrepairable, perhaps due to water or physical damage, and you are unsure of what to do with them? Until May 1, 2015 Motorola Solutions, Inc. is offering a trade in promotion. Turn what you thought was garbage into credit towards a new radio purchase. Have you inquired about a maintenance contract? This is an easy way to budget repairs for the future.
Backbone Preventative Maintenance - Do you have a repeater installed at your location? When was the last time you had a preventative maintenance service call on it? Being proactive now helps to avoid emergencies later. A qualified technician can check out your equipment to ensure everything is running properly and efficiently.
FCC License - Are the channels you are operating on licensed to your company? Is your license up to date? Have your radios been narrowbanded to fulfill the FCC requirements from January 1, 2013?
By asking yourself these questions and performing these tasks you will be well on your way to organizing your two-way radio fleet. For more information, contact us. Our trained and certified staff can help you optimize your two-way radio communications.